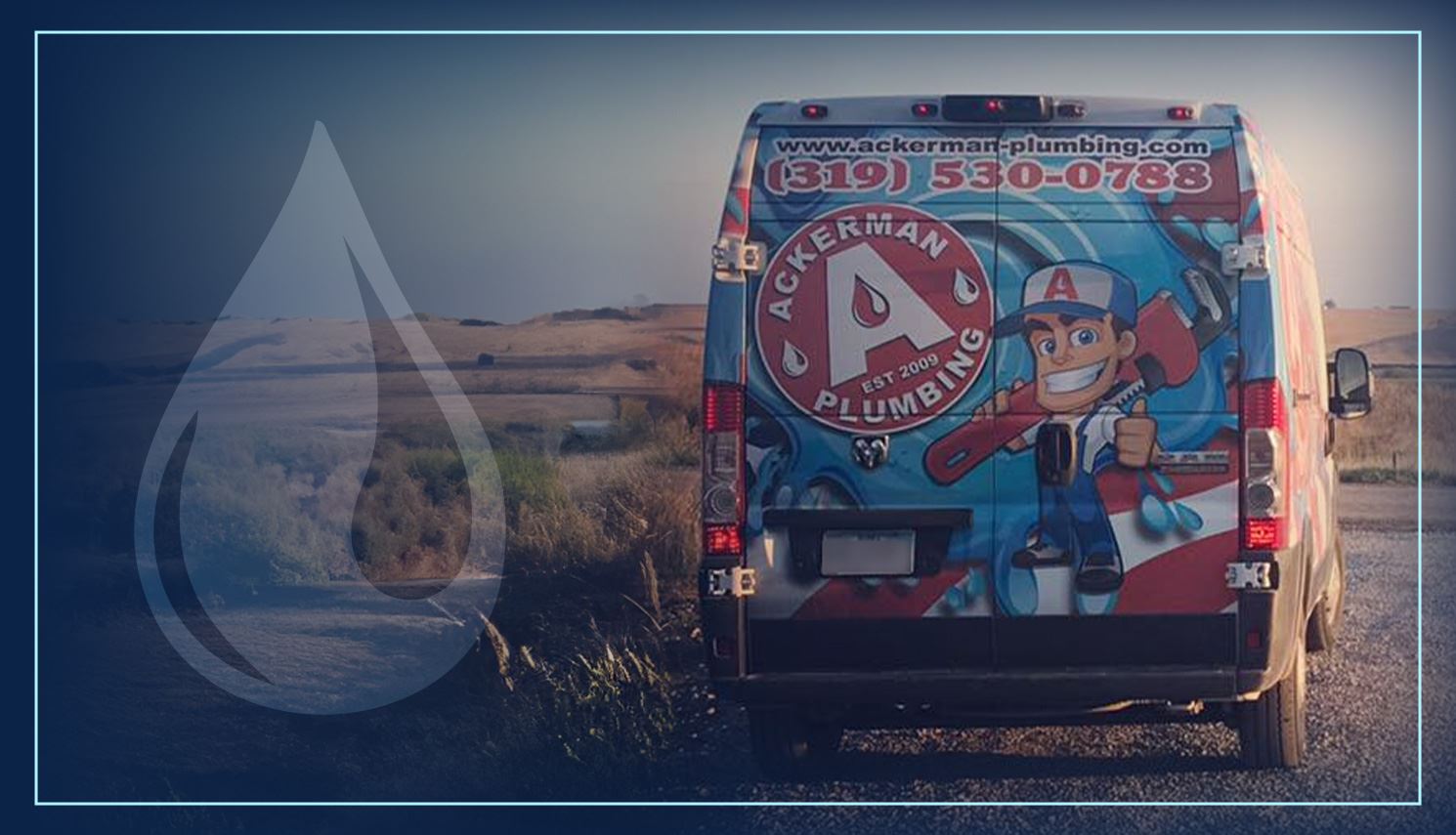 Ackerman plumbing
solutions delivered with care
Offering plumbing solutions in Iowa City, IA, Coralville, IA, North Liberty, IA, & surrounding areas!
Plumbing issues often catch homeowners by surprise and can leave them scrambling to find someone to turn to for help. At Ackerman Plumbing, we understand the kind of stress anything from a clogged kitchen drain to a broken water heater can put you under. This is why our goal is to provide cost-effective services that give our customers peace of mind. For more than a decade, property owners in Iowa City and throughout Johnson County have relied on us to deliver the solutions they needed.
A huge part of our success is the investments we make in our team. We are a group of highly skilled professionals who stay up to date with the latest technologies and workmanship methods. We hold various pertinent licenses to perform specialized work on plumbing systems. Our technicians even take courses on customer service to ensure we are not only the best plumbers in Iowa City, but we are people who communicate effectively and treat our customers with care.
Give us a call to schedule your service (319) 250-5442 or connecting with Ackerman Plumbing online.
Trusted Local Plumbers in Johnson County
At Ackerman Plumbing, we are proud to have helped countless customers address plumbing issues of all kinds. Our wealth of experience and commitment to our customers' satisfaction set us apart from others in the area and allow us to deliver reliable results.
Here are four reasons customers call us for plumbing in Iowa City:
We have the expertise that others do not. We only hire plumbers who have passed the journeyperson or masters exams. This means when you choose us you get service from certified experts.
Our aim is to provide solutions that last. We do more than quick fixes. We resolve your problems and take care to prevent collateral issues.
We value our customers' experiences. From the first time you speak with us to the moment we arrive at your home, your satisfaction is our priority.
We are a family-owned company. Our family values guide everything we do. Our plumbers in Iowa City treat your home as if it were their own, work with integrity, and are proud to be there when you need them most.
Continue Reading
Read Less
your trustworthy team
Emergency Services Available

Quick & Punctual Arrivals

Licensed, Bonded & Insured
dedicated to your comfort
Over 20 Years of Experience

Quality Products & Solutions
Our years of experience have shown us that homeowners can avoid an overwhelming majority of serious plumbing issues by getting routine maintenance. Do you want to make sure your home's water heater, appliances, pipes, toilets, faucets, sinks, and more are always operable and working efficiently? Join our Total Care Club!
The benefits of membership include:
Front-of-line service: You get to skip the line. Whatever you call us for, it becomes our priority.
Annual inspections: We will complete a comprehensive review of your home's plumbing to help you stay ahead of costly emergency repairs.
10% off all service repairs: That's right! You can save big, while still getting what you need.
2-year service guarantee: If any problems arise with our work in this timeframe, we will gladly come to your property and take care of the issue.
No service fee: We waive our $69 service fee for all club members.
Getting all these fabulous benefits is simple. Contact us today and let us know you want to safeguard your property by becoming a member of our Total Care Club.
Continue Reading
Read Less
Keep Your Home In Tip-top Shape
Don't let your plumbing issues create uncomfort in your home. Sign up for our Total Care Club and our maintenance will keep things running smoothly year round!
Learn More